Based in Beijing, Enoch is a social entrepreneur and founded BEARAPY with the mission to reduce burnout and mental health issues in the community through helping adults access their inner playfulness. Her unique approach blends the power of playfulness – creativity, stress management, and self-awareness – into her transformation and facilitation work. Enoch also has expertise in using psychodynamic techniques for organizational development and improved team performance: she is a Leadership Consultant on group dynamics at INSEAD and Director of Synthesis, an organizational design consultancy.
Enoch works with multinationals, governments, and start-ups across Asia-Pacific and Europe, advocating emotional and mental health awareness to prevent burnout, depression, suicides, and related issues. She has helped thousands of people through play workshops, talks, and a free ebook on communicating with depressed people, raising awareness in the society on mental wellbeing.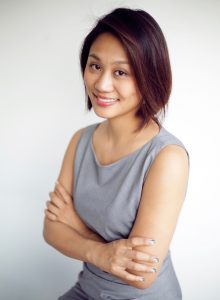 As a sufferer of burnout and clinical depression herself, Enoch is able to bring a personal touch and empathise with those in similar plights. She continues to develop her research and theories in the psychology of adult playfulness, and is a frequent speaker and social commentator on topics of mental resilience, burnout, and women leadership. She has been a TEDx presenter and has been featured and published in Forbes, South China Morning Post, Thrive Global, Women of China and CGTN, in addition to her blog NochNoch.com.
Enoch is involved in various volunteer and charity work in the community, particularly for children and mental health projects, and is a Mentor at China Accelerator (start-up incubator program). She is fluent in English, Cantonese, Mandarin and French.
Previously, Enoch was an International Manager with HSBC's London, Paris, Tokyo, and Beijing offices. She holds an Executive Masters in Coaching & Consulting for Change (Distinction) from INSEAD, a Masters in Law (Hons) from University of London, a Bachelors in Law (Hons) and a Bachelors in Politics & Public Administration (Hons) from the University of Hong Kong and Institut d'Etudes Politiques, Paris.
Enoch enjoys studying Chinese calligraphy, playing basketball, and tackling jigsaw puzzles. She is married with two children.
She is a bear lover, and hopes that through Bearapy, everyone will find well-being and be in tune with their inner selves. Making the world playfully bearable!
Feel free to contact Enoch to learn more about her work.