Based in Beijing, Enoch consults on corporate culture and organizational behaviour, focusing on leadership development, team dynamics, employee engagement, and wellbeing. Her clients consists of MNCs and mature start-ups, advising executives and entrepreneurs on implementing positive changes in internal management. Enoch's unique approach blends the power of playfulness – creativity, innovation, stress management, and self-awareness – into her consulting and facilitation work, discerning the unconscious and emotional factors that affect decision-making and organizational culture.
Enoch spent seven years with HSBC in management roles, working in the bank's London, Paris, Tokyo, and Beijing offices. In 2010, she experienced a period of physical illness and clinical depression. Through this challenging time she rediscovered her creativity through writing and playfulness, and pursued her passion in organizational psychology. Subsequently, she completed an Executive Masters in Coaching and Consulting for Change (with Distinction) at INSEAD, and thereafter set up her consultancy, Bearapy, to help businesses and individuals incorporate play into their work and lives for higher productivity and results. Her research continues in the psychology of playfulness, and the impact of psycholanalytic object relations in organizations, particularly with personalization of workspaces.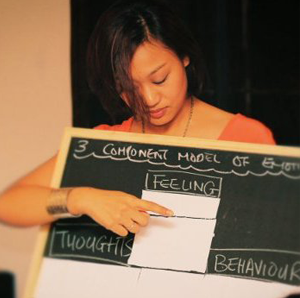 Using her pen name, Noch Noch, she has written extensively on the topics of mental health and self-development, and is a regular commentator and corporate speaker on women leadership, creativity, mental health, and other career topics. In addition to her websites Nochnoch.com, she has been published and quoted in Forbes, South China Morning Post, Women of China, and CCTV, amongst other websites and media.
Born and raised in Hong Kong and Australia, and having lived / worked in multiple countries, and travelled to more than 100 cities, Enoch empathizes with cross-cultural perspectives and communication. She holds a Masters in Law from University of London (Merit), a Bachelors in Law (Hons) and a Bachelors in Politics & Public Administration (Hons) from the University of Hong Kong & Institut d'Etudes Politiques, Paris. Enoch is fluent in English, Cantonese, Mandarin and French – but still finds Australian slang a bit of a challenge…
In her spare time, Enoch is involved in charity projects, studying Chinese calligraphy, playing basketball, baking, and tackling jigsaw puzzles – but such time is limited these days with a two-year-old daughter.
She is a bear lover, and hopes that through Bearapy, everyone will find well-being and be in tune with their inner selves.
Feel free to contact Enoch to learn more about her work.