Bearapy can advise and recommend MNCs, startups, non-profit & governmental organizations on addressing mental health issues in organizations, and to strengthen the company culture so that employees are healthy, happy, well, and fully engaged in the workplace.
Bearapy is unique with a comprehensive approach of weaving the concept of playfulness into all consulting projects that is appropriate for different organizations. This method brings about awareness of unconscious and emotional factors, and helps employees find energy from within themselves to meet the challenges of the work place.
Employee well being is linked to other aspects of internal management, such as leadership, team collaboration, and changes and transitions into a workplace that is more real. Bearapy has expertise in organizational psychology and group dynamics, and can also consult to a broader range of organizational development here.
To see what clients have to say about Enoch's consulting advice, please read testimonials here.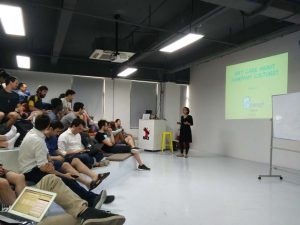 As adults, we have forgotten how to play, and yet it is play that builds team bonding, reduces stress, stimulates creativity, and most importantly, ignites fun, and allows us to enjoy life. This attitude reinforces productivity, employee engagement and loyalty, and cements corporate culture while allowing adaptations to changes.
Please get in touch to learn more about how Bearapy can help your company before more effective in achieving the visions you have set for your company's wellbeing!