Bearapy: Bear Therapy, using playfulness to inspire creativity and manage change.
Mission: Make the world more mentally healthy!
Bearapy that uses the psychology of playfulness to manage change, inspire creativity, and promote employee wellbeing. Enoch Li, founder of Bearapy & Play Consultant, works with entrepreneurs and global executives on group dynamics to reveal unconscious thoughts and emotions, plus manage related anxieties that affect individuals, teams, and the entire culture of companies and organizations. Find out more about the consulting, workshops, and speaking engagements that Bearapy offers.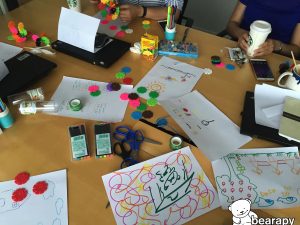 Playfulness is a means: a tool to illustrate concepts of stress management, to inspire creativity, to bring awareness to the self.
Playfulness is a catalyst: to assimilate corporate culture, to enhance office and workspace designs for increased productivity, to build team cohesion, to elicit the strength of thoughts from the unconscious mind for heightened awareness.
Playfulness is an ends: an attitude to incorporate into daily lives and work for mental and emotional well-being.

Here is more on why we need to play:
Bearapy operates under Coghlan & Li Limited, a private limited company registered in Hong Kong.