BEARAPY workshops are geared towards corporate executives and employees using playful techniques to understand company culture and improve employee well-being and mental health. We have experience working with multinational corporations, smaller-sized companies, and entrepreneurs and start-ups.
Each workshop is designed to:
improve team cohesion and collaboration
raise individual self & emotional awareness and leadership effectiveness
enhance productivity for the organization through preventing employee burnout
strengthen individual and group resilience to challenges and adversity
inspire new ways of divergent thinking
reduce stress
Some of our flagship workshops are:
Play Your Way to Well Being
Why Bother about Mental Health at Work?
I'm NOT Burnout! or Everything is NOT okay!
The Work of Play
Building Company Culture
Don't Kill Your Bottomline with Stress
Emotional Awareness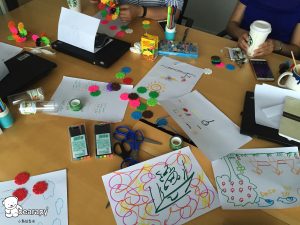 Bearapy workshop uses a combination of approaches, particularly experiential and emergent learning techniques, to let ideas unfold and encourage interaction amongst the participants. To some, this causes discomfort – the optimum for learning.
What our clients say:
"Some of us adopted the ideas for internal use… and that helped to stimulate conversation and enhance team work. We were very pleased with the long lasting effects on both personal and professional levels." ~Colin Zhou, Area Director of Human Resources, Marriott Hotel Group (China)~

"… a practical perspective on the definition of company values, and insights for founders to recognize signs of distress in themselves and others, and address them before they reach a breaking point." ~Benjamin Joffe, Partner, HAX~

"A close analyst of corporate culture, and uing the problem-solving potential of play, she guided us to uncover new staff configurations that would address both structural and strategic issues." ~Philippa Jones, Managing Director, China Policy~

"During offsites when it can get very intense, a play session would work wonders." ~Karen Chia, Executive Director, Heritage Fiduciary Services Pte Ltd~
More cases here and testimonials here.
For tailor-made ideas, please contact Bearapy.